Hip Replacement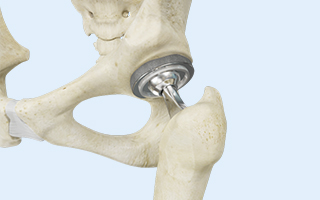 If you have severe arthritis of the hip causing pain and limitation of your activities and lifestyle, and have not responded to conservative treatments you may be a candidate for total hip replacement.
Total hip replacement was first performed in 1960 and modern hip replacement is one of the most successful operations in the history of surgery. Hip replacement replaces a painful arthritic hip with a functional pain free joint that allows patients to resume normal activities.
Total hip replacement has been described by the prestigious medical journal The Lancet as the "operation of the century" because of its tremendous success in improving the lives of patients with disabling hip arthritis
Total Hip Replacement replaces the worn out ball and socket joint with new durable implants.
About Hip Replacement Implants
There are many different types of artificial joints available, all made from different materials and offering different bearing surfaces.
Types of Hip Replacement Surgery
The ideal approach to the hip depends on the individual patient's anatomy. Surgical approaches can include:
Anterior Hip Replacement
Dual Mobility Hip Replacement
Partial Hip Replacement surgery
Hip Resurfacing
My Hip Surgery Recommendation
Varies from patient to patient depending on the specific anatomy and other factors
My aim is to return patients to their previous activity level with a fully functioning pain free hip joint.
Every week I receive letters from patients who are thrilled with their new hip, many of which include pictures from patients who have returned to vigorous sporting activities such as skiing, running, tennis and hiking. Check out the Google reviews for more details.
Anterior Approach vs Dual Mobility
The main advantage of the anterior approach to the hip is a better stability with a lower chance of dislocation. Dual Mobility hips by their very nature are extremely stable and very unlikely to dislocate.
Dual mobility hip replacements can be safely implanted using either the direct anterior or posterior methods. Both approaches are highly effective and very likely to lead to a successful outcome.
The approach I use is individually tailored to the patient's specific anatomy.
Surgical Methods
Minimally Invasive Surgery
I use a minimally invasive techniques with all hip replacements, whether anterior or posterior. This involves inserting the implant through a minimally invasive muscle splitting, tissue preserving surgical incision.
Minimally invasive technique can be used with all surgical approaches to the hip including the:
Direct anterior
Anterolateral
Posterolateral
Dual mobility
Computer Assisted Orthopaedic Surgery
Accurate alignment of the hip components is critical to the overall function and improved outcomes after hip surgery.
A/Prof. Waller employs Computer-assisted surgery (CAS) that utilises robotic and image-guided technologies this help to accurately pinpoint anatomical landmarks that can be difficult with small incisions.
This system can also help navigate through different bone cuts and implantation alignment.
Risks with Hip Replacement Surgery
Prior to making any decision to have surgery, it is important that you discuss any concerns with me and understand the potential risks so that you can make an informed decision regarding the surgery's advantages and disadvantages.
While complications due to surgery are uncommon they can occur, the following are some:
Numbness or tingling in the groin and thigh is common after anterior approach hip replacement. Occasionally it can be associated with troublesome 'nerve type pain'
Some discomfort leg, thigh and buttock region
Joint stiffness
Local nerve or blood vessel damage
Reflex sympathetic dystrophy
Other general medical and surgical complications can include:
Infection
Bleeding
Clots in the leg (DVT) or lung post-operatively
Allergies and anaesthetic complications can occur
If there are any postoperative concerns or pain please do not hesitate in contacting my office
Preparing for Hip Replacement Surgery
Preparing mentally and physically for surgery is an important step toward a successful result.
Participating and completing a tailored exercise program before (ie. pre-hab) with a trained physiotherapist will achieve the best result after surgery.
Do not eat or drink anything, including water, for 6 hours before surgery
Stop taking aspirin, warfarin, anti-inflammatory medications or drugs that increase the risk of bleeding one week before surgery
Eat a well-balanced diet, supplemented by a daily multivitamin with iron.
Consider losing weight (if overweight) before surgery to help decrease the stress on the new joint.
Stop or cut down smoking to reduce your surgery risks and improve your recovery
Treat any tooth, gum, bladder or bowel problems before surgery to reduce the risk of infection
Report any infections to my office prior to surgery as the procedure cannot be performed until all infections have cleared up.
After Your Operation:
Recovery
Most patients need 2-5 nights in hospital. The incisions take 14 days to heal.
Most patients improve dramatically in the first 6 weeks. Occasionally, there are periods where the hip may become sore and then settle again. This is part of the normal healing process.
It takes three months for your hip to fully recover from hip replacement. Continued improvements may be gained up to 1 year post-surgery.
Complications
If any postoperative problems arise with your hip replacement, such as redness, increasing pain or fevers, do not hesitate to contact my office.
Pain Management after Hip Replacement Surgery
Your experience of pain will vary depending on the procedure performed and the amount of pre-existing damage in the Hip Replacement.
After your operation you will have pain medication and antibiotics.
Most patients are pleasantly surprised at how little pain they have after the procedure. Local anaesthetic is injected before and after the procedure to minimise any pain you may feel.
Mobility
Walking – full weight-bearing and walking is allowed immediately. Initially, this will be aided by crutches. Most people will walk independently by 10-14 days post-operatively.
Driving – do not drive for 48 hours after an anaesthetic. After 48 hours, your ability to drive will depend on the side you had your operation, left or right, and the type of vehicle you drive, manual or automatic.
I will be happy to advise you when I feel it is safe for you to drive.
Return To Work After Hip Replacement Surgery
Return to work will vary depending on the procedure performed and type of work you are engaged in. Most people can return to office work within 2-3 weeks. Labour intensive work however, may require you to take 5-6 weeks before returning to full duties.
During these period patients are not fit to perform work duties that involve:
Prolonged standing,
Heavy lifting,
Bending or
Excessive stair climbing
Return To Sport
Low impact activities, such as cycling and swimming, can be commenced from week 4. High impact activities, such as running and jumping, are best avoided for 8-12 weeks post-surgery.
Post Operative Rehab
Participating and completing a tailored exercise program after surgery (ie. rehab) with a trained physiotherapist will achieve the best result for you after surgery.
Recovery Plan for Hip Replacement Surgery
The physiotherapist will prepare an exercise programme. Much of the exercise programme can be done at home or at a gym, or under your physiotherapist's guidance.
Week 1:
Ice your Hip Replacement as directed by your physiotherapist
Full extension (make sure your Hip alignment is straight)
Full weight-bearing, wean off crutches
Quads and hamstrings co-contractions
Straight leg raises
Ankle range of motion (ROM) exercises
Week 2 – 6:
Full weight-bearing – no limp – gait training
Ice before and after exercise till swelling has dissipated.
Isometric quad exercise
Isokinetic closed chain exercises.
Step work, leg press, squats
Active Hip flexion and extension
Stationary bike
Swimming – no restriction
21 days commence proprioception
Outcomes
Realistic activities following total hip replacement include unlimited walking, swimming, golf, driving, hiking, biking, dancing, and other sports.
Related Topics